Special Offer!
For the participants presenting in the Poster Session at "35thInternational Association for Human Caring Conference"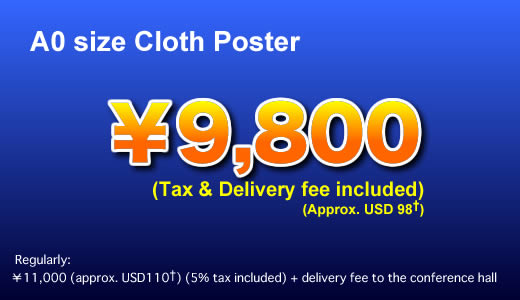 The above special price will be offered only when an embedded PDF or Outlined PDF data is submitted to us.
A0 size : 841mm x 1189mm (roughly 33.1in x 46.8in)
Posters ordered to us will be delivered directly to the Conference reception.
After the Poster data is sent to us, we will verify with the data and will send an estimate on the return mail.
After the amount due is deposited to our account, we will start the printing process.
All amount due should be payable in Japanese Yen.
(Please contact us for further information)
We do not accept foreign currencies. Sorry for the inconvenience.
Final acceptance of the data and the due amount will be May 15, 2014.
Editing on the data sent to us is not included.



English speaking staff available!!‡
‡due to the majority of our staff is Japanese origin and won't be able to speak fluent English, please contact us through the e-mail to avoid your inconvenience.
Contact : gakkai_35iahcc@renaic.co.jp
†(exchange rate as of 23/07/2013)